SUGAR HOUSE
Play Now
T&C applies
New customer offer.Exchange bets excluded. T&C applies.
Pros
SugarHouse Online Casino site/app is 100% legal and regulated
The casino site features authentication and encryption technology
Cons
Must be located in New Jersey
Limited Table games
Do not offer all the big and most popular gaming providers
About Casino
SUGARHOUSE CASINO REVIEW.
SugarHouse Online Casino opened for business in late 2016 as a partnership between Rush Street Interactive and the Golden Nugget Casino in Atlantic City. The unique name derives from a casino by that name located in Pennsylvania and operated by parent company Rush Street Gaming.
About a year-and-a-half later, SugarHouse Online Sportsbook went live with the launch of a betting website, iOS app and Android app. The New Jersey Division of Gaming Enforcement (NJDGE) signed off on SugarHouse sports betting in August of 2018 to make it New Jersey's third mobile sportsbook.
Shortly after launching online betting in NJ, SugarHouse Sportsbook made the decision to cut ties with Golden Nugget and move its license over to Monmouth Park due to the Golden Nugget being restricted from offering NBA betting. SugarHouse Casino remains with Golden Nugget, but the sportsbook is now associated with Monmouth Park and is now able to book NBA wagers online.
In May 2019, SugarHouse entered the Pennsylvania market to become the state's first legal mobile betting app.
Our SugarHouse review will discuss the sportsbook and casino in-depth as we consider sports betting options, useful features, game selection, interesting features and more. We'll keep the opinion to a minimum as we focus on the facts so you can decide if SugarHouse is for you.
Rush Street Interactive has emerged as a major contender in the regulated online gambling market with a solid platform and absolutely massive library of games. At last count, SugarHouse Casino boasted more than 470 slots, table games, video poker, live dealer games and virtual sports betting. New games are added on a regular basis, so the list is constantly growing.
The sportsbook offers a similarly large variety of options for customers. For instance, on the very first day SugarHouse Sportsbook opened for business in New Jersey, the international soccer betting tab had more than 48,000 individual bets open for action. That's not even including football, baseball, basketball and other sports.
Overall, SugarHouse Online is a massive gaming site and can now claim top honors as the market's most comprehensive online betting site. Whether it's sports betting or casino games, this gaming site has a lot of variety. Now, let's move on to the nuts and bolts of today's review. We'll start with the sportsbook and then move on to the casino.
---
SugarHouse Online Sports Betting.
SugarHouse Sportsbook entered the US sports betting market after going live in New Jersey on August 23rd, 2018. From the beginning, Sugarhouse sports betting was advertised as being home to extensive online betting options.
A company press release described the sportsbook as offering "more than 5 million live in-game bet options" in addition to standard pre-game wagers of all types on an international variety of sports. All the major North American sports are featured along with international sports such as foreign soccer leagues, cricket and rugby. Smaller, niche sports such as darts and cycling are also covered.
We'll go into more detail regarding sports coverage and types of bets offered later, but for now, here's some basic information:
SugarHouse Sportsbook is available in: New Jersey, Pennsylvania and likely other states in the future
Operated by: Rush Street Interactive, a subdivision of Rush Street Gaming that is headquartered in Chicago, IL
Established: Online sportsbook launched in 2018, Rush Street Gaming founded in 2009
Platforms: Available via desktop at PlaySugarHouse.com and via mobile apps for iOS and Android devices
New customer bonus: 100% up to $250
SugarHouse Sportsbook Bonus.
Use the bonus code SUGARDADDY when you make your first deposit to get an extra 100% in bonus funds for up to $250 extra. For example, a $50 deposit will get you $50 in bonus funds, a $75 deposit will get you $75 extra and so on.
The more you deposit, the bigger the bonus. A deposit of $250 or more will max out the bonus to give you exactly $250 extra. After you make your first deposit, the bonus funds will be credited to your bonus bank within 48 hours.
This is one of the easiest deposit bonuses to clear with wagering requirements of just 1x. This means a bonus of $100, for example, would require $100 worth of wagers on slots, video poker or sports betting before it is cleared for withdrawal.
The low wagering requirements are a major selling point when you consider most other betting sites offer bonuses with clearing requirements in the range of 20x to 30x. Under 30x terms, this bonus would require $3,000 worth of wagers to clear a $100 bonus, which would make it difficult to clear and still have anything left over after.
By contrast, the 1x wagering requirement at SugarHouse requires just $100 worth of wagers when claiming $100 in bonus funds. You have 30 days to clear the SugarHouse bonus.
Note: The new customer bonus may only be claimed once per person across all SugarHouse and Bet Rivers betting sites/apps.
Click here to claim your bonus today
Use bonus code: SUGARDADDY
Sports Covered and Types of Bets Offered
As we alluded to in the introduction, SugarHouse Sportsbook has a very large selection sports to choose from and bets to place. This resembles any number of major international sportsbooks that have operated overseas for years with all the world's major sports covered and thousands of bets to choose from among individual sports.
There is some seasonal variety when it comes to betting options. Naturally, the NFL options are reduced during the offseason, but even then you'll still find a range of futures and prop bets related to the next NFL season. If you just have a hunch the Eagles will make it all the way next year, you can usually get a bet on the next Super Bowl winner year-round.
The full range of sports on offer includes:
| | | | |
| --- | --- | --- | --- |
| NFL Football | College Football | Baseball | NBA Basketball |
| College Basketball | MLS Soccer | International Soccer | Tennis |
| Boxing | Golf | Cricket | Cycling |
| Darts | NHL Hockey | International Hockey | Motorsports |
| Rugby Union | UFC / MMA | | |
Additional sports come and go depending on the season, but those are the main standbys that you can find available most of the year.
Volume-wise, there are tens-of-thousands of wagers on offer on any given day. For example, the NFL tab at SugarHouse Sportsbooks had exactly 746 unique bets available on a preseason weekday. The soccer tab had even more bets to choose from with over 48,000 soccer bets listed for matches hosted around the world.
This type of volume is achieved by offering multiple bets for individual games. The betting variety for just a single NFL game includes a variety of wager types such as point spreads, money lines, props such as whether or not the game will go into overtime, single-game parlays such as "home team wins and the point total is over 41.5" and more.
The following screenshots offer a quick peak at one NFL game and one soccer game showing the types of bets that were offered for each individual game.
Keep in mind it was impossible to capture the full list of bets for either game with a single screenshot. The soccer screenshot in particular shows the true extent of the options at hand – the number displayed on the right side of each blue bar listing different categories of wagers shows how many wagers were offered for that particular category. In all, that one soccer game had nearly 300 wagers to choose from.
Parlay generator: One of the more unique features offered by SugarHouse Sportsbook is a random parlay generator that you can use to build high-paying parlay wagers. With this tool, you can select any combination of sports, a number of legs to add to your parlay and an amount to bet.
Click the "re-pick" button and SugarHouse will automatically generate a new parlay card filled in with a series of wagers designed to generate a massive payout. SugarHouse also randomly suggests parlays from time to time that are completely random aside from always having even higher-than-normal payouts.
To illustrate, here's an example of a parlay I created myself just now. In this example, I chose tennis and baseball, selected a bet amount of $1.00 and generated an 8-leg payout offering a potential win of $98,553.09.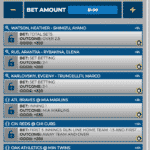 SugarHouse Mobile Betting App and Interface
The people at SugarHouse Sportsbook did well in releasing the desktop platform, iOS app and Android app all at once. From day one, players were granted access to the full range of sports betting options regardless if they were visiting from home or while on the go.
The sportsbook interface makes smart use of navigation menus that allow customers to view popular and upcoming sporting events or to browse a full range of sports. Navigating through the various sports leagues is intuitive with a navigation menu that can be used to scroll through the various sports leagues.
Players will also see notifications of other options across the top of the app and website such as the "game of the day," special parlay offers and other features. Choosing a league or sport from the main navigation menu will then display a list of upcoming games along with odds for each side to win.
From there, you can either place a bet on the winning side or select that game to see a full list of additional wagers for that game. For example, selecting an NFL game will bring up a list of money lines, different point spread options, totals, alternate game lines, in-game parlays and props.
Clicking on any individual wager brings up a bet slip in which you can input your intended bet amount to see exactly how much you are risking and how much you stand to win. Select "place bet" to confirm the wager. If your bet is a winner, you'll paid into your SugarHouse account immediately.
Casino Features
This Casino has no features! Please add features to this specify casino.